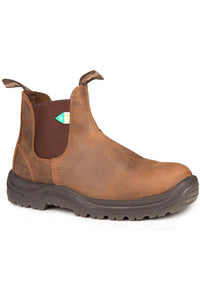 BLUNDSTONE 164 Greenpatch Saddle Brown CSA
Firefighters across Canada swear by the kick-off ease of Blundstone steel toe work and safety boots. All-day comfort on the concrete floors at the station and over-the-ankle protection that drivers can wear on runs. CSA approved. Spiffy enough for dress uniforms too! Unisex sizing. Blundstone is Aus/UK sizing.
Dual-density polyurethane midsole and thermo-polyurethan (TPU) outsole: TPU Outsole, It's very durable, providing a high tolerance against cuts, abrasion, splitting, and cracking, as well as high resistance to most oils and chemicals. The TPU Outsole also provides slip resistance for uneven and slippery surfaces.

Other CSA Blundstone Features,
CSA Grade 1 protective steel toe cap
Weatherproof leather is an industry-leading 2.5 mm thick, yet 'breathes' for absolute comfort
XRD™ footbed for all-day comfort and support
Puncture resistant mid-soles by Lenzi: lighter, safer, more flexible, more comfortable, and warmer than steel
Injection-molded soles -- no adhesives to come unglued, no stitching to rot
Heat, slip, oil, acid, and electric shock-resistant sole
Heat-formed heel for a snug fit
Comfort EVA removable footbed with XRD™ in the heel pad
Canadian Standards Association (CSA) Approved
---
We Also Recommend